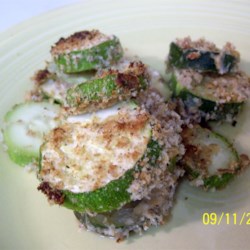 Makes One Serving:
1 large (210gr) zucchini - 36 calories
1 medium egg white - 16 calories
30gr (1/4 cup) bread crumbs - 115 calories
5gr (1tbsp) parmigiano reggiano - 20 calories
Preheat the oven to 475 degrees F (245 degrees C).

In one small bowl, stir together the bread crumbs and cheese. Place the egg white in a separate bowl. Dip zucchini slices into the egg whites, then coat the breadcrumb mixture. Place on a greased baking sheet.

Bake for 5 minutes in the preheated oven, then turn over and bake for another 5 to 10 minutes, until browned and crispy.
Total calories: 187
Sourced from http://allrecipes.com//Recipe/baked-zucchini-chips/Detail.aspx but edited for less calories and for one person.